Please join us for the National Capital Pond's
Holiday Charity Celebration
Thursday, December 15, 2022
6:00 p.m. – 10:00pm
$135 includes:
Hors d'oeuvres & Dinner
3 Hour Open Bar
Music & Dancing
Raffle Tables, In-person 50/50, Virtual Drawing,
Lay Down Boards and the Sip & Scratch Basket Raffle
to raise money for
Bring Cash!

Special Room Rate available until 11/28/2022 – BOOK NOW

In lieu of bringing door prizes, please bring a Toy to support our Toy Drive
and/or make a direct donation to the charities on the registration form.
Sponsorships Available – Contact Wendy Fletcher
Wendy@renewalofmidatlantic.com – 443-243-2602
The Blue Goose Reindeer Games Virtual 50/50 Raffle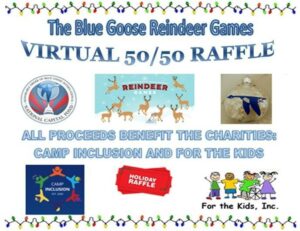 Winner will be drawn on 12/15/2022 at the live event.
Virtual tickets available HERE
Need quick access to the link? Text 'ReindeerGames' to (406) 302-5086
to get a link to purchase raffle tickets. This is a really easy way to share!

~~Sponsorship opportunities for the Reindeer Games are available~~
Contact reindeergames@nationalcapitalpond.com
Please support us by buying tickets and sharing with your co- workers, family and friends.


HELP US FILL SANTA'S SACK OF TOYS!!
We will be collecting NEW UNWRAPPED TOYS during the months of November and December through 12/15/2022, and delivering these toys to CHILDREN'S NATIONAL MEDICAL CENTER and ST. VINCENT'S in time for Christmas. To schedule your pick-up, please contact one of the following:


BARB MARKUSKI
barb@capeziocontractor.com
301-404-5758

WENDY FLETCHER
wendy@harfordcleaners.com
443-243-2602

VICTORIA RONAN
victoria.ronan@bergmanns.com
301-717-5174

You may also drop off toys at The Lighthouse Insurance Services
1119 St. Rd. 3N Unit 210 Gambrills, MD 21054

OR

Rainbow International of Northeastern Maryland
2228 Conowingo Road, Bel Air, Maryland 21015

Ps. You can also order toys online and have them shipped!! Contact us for an address!